Compact in proportions and unparalleled in comfort, the Olivia pouf features a distinctive cylindrical shape. Sat on a circular base covered in black leather, this pouf is upholstered in More is More fabric (cat.A+), a soft black and white tartan that adds a touch of preciousness to the design.
Olivia can be customized with a selected range of fabrics and leathers in order to meet a full range of requirements in terms of layout and use. An elegant button in horn and 24k gold plated brass embellishes this pouf that can be used as a complement to other seating systems in the living room or to furnish the sleeping area.
.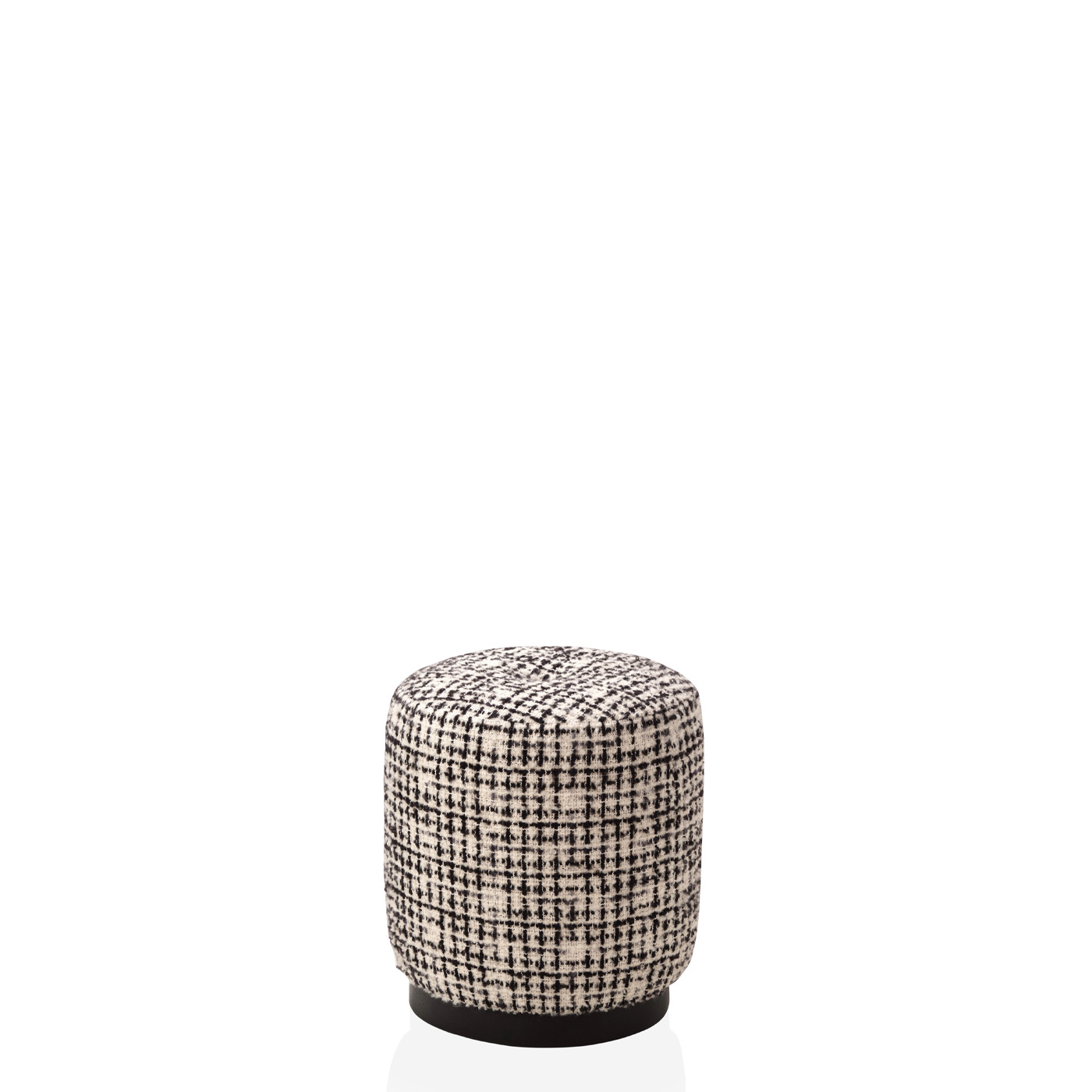 Mod. 6053A+
Pouf upholstered in More is More fabric (cat. A+), Noir Jais colour with horn inlay. Base in Aida pebbled leather, Onyx colour.
Overall dimensions: Ø cm 40 x H cm 45
Colours and shades of horn processed by Arcahorn are unique and due to the natural origin of raw material.
For this reason horn tones that can be seen in pictures are indicative and can not be reproduced in finished products.
---
Additional information
| | |
| --- | --- |
| | Cat. A+ Splendido Splendente Alabastro Lamina Argento, Cat. A+ Splendido Splendente White Lamina Oro, Cat. A+ Splendido Splendente Fango Lamina Oro, Cat. A+ Splendido Splendente Lago Lamina Oro, Cat. A – Splendido Perla, Cat. A – Splendido Silver, Cat. A – Splendido Gold, Cat. A – Splendido Fango, Cat. A – Splendido Lago, Cat. A – Grand Natté Bianco, Cat. B – Belsuede Avorio, Cat. B – Belsuede Perla, Cat. B – Belsuede Ostrica, Cat. B – Belsuede Dune, Cat. B – Belsuede Amande, Cat. B – Belsuede Notte, Cat. B – Belsuede Ardoise, Cat. B – Samsara Poudre, Cat. B – Samsara Coco, Cat. B – Samsara Carbone, Cat. B – Sparks White, Cat. B – Sparks Perla, Cat. B – Sun Bear Ardesia, Cat. B – Marilù Black Ivory, Cat. C – Diso Naturale Scuro, Cat. C – Diso Olio, Cat. C – Diso Deserto, Cat. C – Diso Grafite, Cat. C – Vello d'oro Avorio, Cat. C – Vello d'oro Legno, Cat. C – Vello d'oro Argilla, Cat. C – Vello d'oro Nero, Cat. C – Bouclé Bianco, Cat. D – Lario Panna, Cat. D – Lario Cammello, Cat. D – Lario Bronzo, Cat. D – Lario Tortora, Cat. D – Lario Blu Notte, Cat. D – Lario Antracite, Cat. D – Lario Rosso, Cat. Luxe – Carmen Conchiglia, Cat. Luxe – Carmen Seppia, Cat. Luxe – Carmen Marrone, Cat. Luxe – Carmen Grigio, Cat. Luxe – Carmen Orione, Cat. Luxe – Carmen Oceano, Cat. Super – Tosca Latte, Cat. Super – Tosca Earth, Cat. Super – Tosca Wood, Cat. Super – Tosca Dark Brown, Cat. Super – Tosca Black, Cat. Super – Tosca Avio |