Featuring a burnished metal structure with clean arching lines, the Sveva chair is given a distinctive touch by beautifully handcrafted horn tiles with a glossy finish which create a truly fabulous focus. Ensuring unparalleled comfort as well as class, the chair benefits from a deep padded seat cushion and supportive backrest upholstered in Samsara Fabric (cat. B), Coco color adding a textured look to the design.
Offering the ultimate in versatility, Sveva is available in a curated range of premium leathers and precious fabrics, as well as customers owned material and different finishes.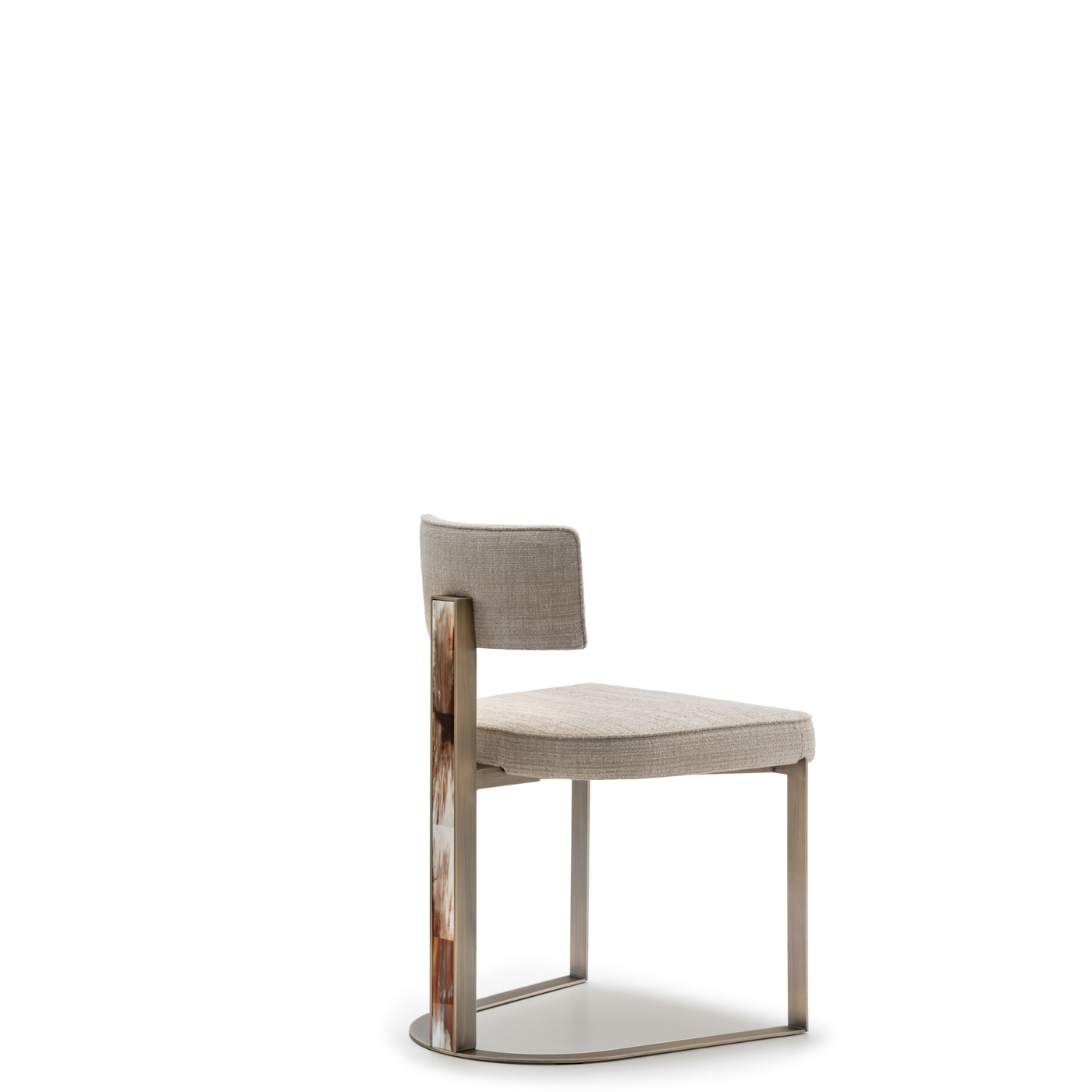 Mod. 6042B
Chair upholstered in Samsara fabric (cat. B), Coco colour. Structure in burnished metal with horn inlays.
Overall dimensions: cm 54 x 56 x H cm 80
Colours and shades of horn processed by Arcahorn are unique and due to the natural origin of raw material.
For this reason horn tones that can be seen in pictures are indicative and can not be reproduced in finished products.
---
Additional information
| | |
| --- | --- |
| | Cat. A+ Splendido Splendente Alabastro Lamina Argento, Cat. A+ Splendido Splendente White Lamina Oro, Cat. A+ Splendido Splendente Fango Lamina Oro, Cat. A+ Splendido Splendente Lago Lamina Oro, Cat. A – Splendido Perla, Cat. A – Splendido Silver, Cat. A – Splendido Gold, Cat. A – Splendido Fango, Cat. A – Splendido Lago, Cat. A – Grand Natté Bianco, Cat. B – Belsuede Avorio, Cat. B – Belsuede Perla, Cat. B – Belsuede Ostrica, Cat. B – Belsuede Dune, Cat. B – Belsuede Amande, Cat. B – Belsuede Notte, Cat. B – Belsuede Ardoise, Cat. B – Samsara Poudre, Cat. B – Samsara Coco, Cat. B – Samsara Carbone, Cat. B – Sparks White, Cat. B – Sparks Perla, Cat. B – Sun Bear Ardesia, Cat. B – Marilù Black Ivory, Cat. C – Diso Naturale Scuro, Cat. C – Diso Olio, Cat. C – Diso Deserto, Cat. C – Diso Grafite, Cat. C – Vello d'oro Avorio, Cat. C – Vello d'oro Legno, Cat. C – Vello d'oro Argilla, Cat. C – Vello d'oro Nero, Cat. C – Bouclé Bianco, Cat. D – Lario Panna, Cat. D – Lario Cammello, Cat. D – Lario Bronzo, Cat. D – Lario Tortora, Cat. D – Lario Blu Notte, Cat. D – Lario Antracite, Cat. D – Lario Rosso, Cat. Luxe – Carmen Conchiglia, Cat. Luxe – Carmen Seppia, Cat. Luxe – Carmen Marrone, Cat. Luxe – Carmen Grigio, Cat. Luxe – Carmen Orione, Cat. Luxe – Carmen Oceano, Cat. Super – Tosca Latte, Cat. Super – Tosca Earth, Cat. Super – Tosca Wood, Cat. Super – Tosca Dark Brown, Cat. Super – Tosca Black, Cat. Super – Tosca Avio |